Back to Shop
Macaron Cake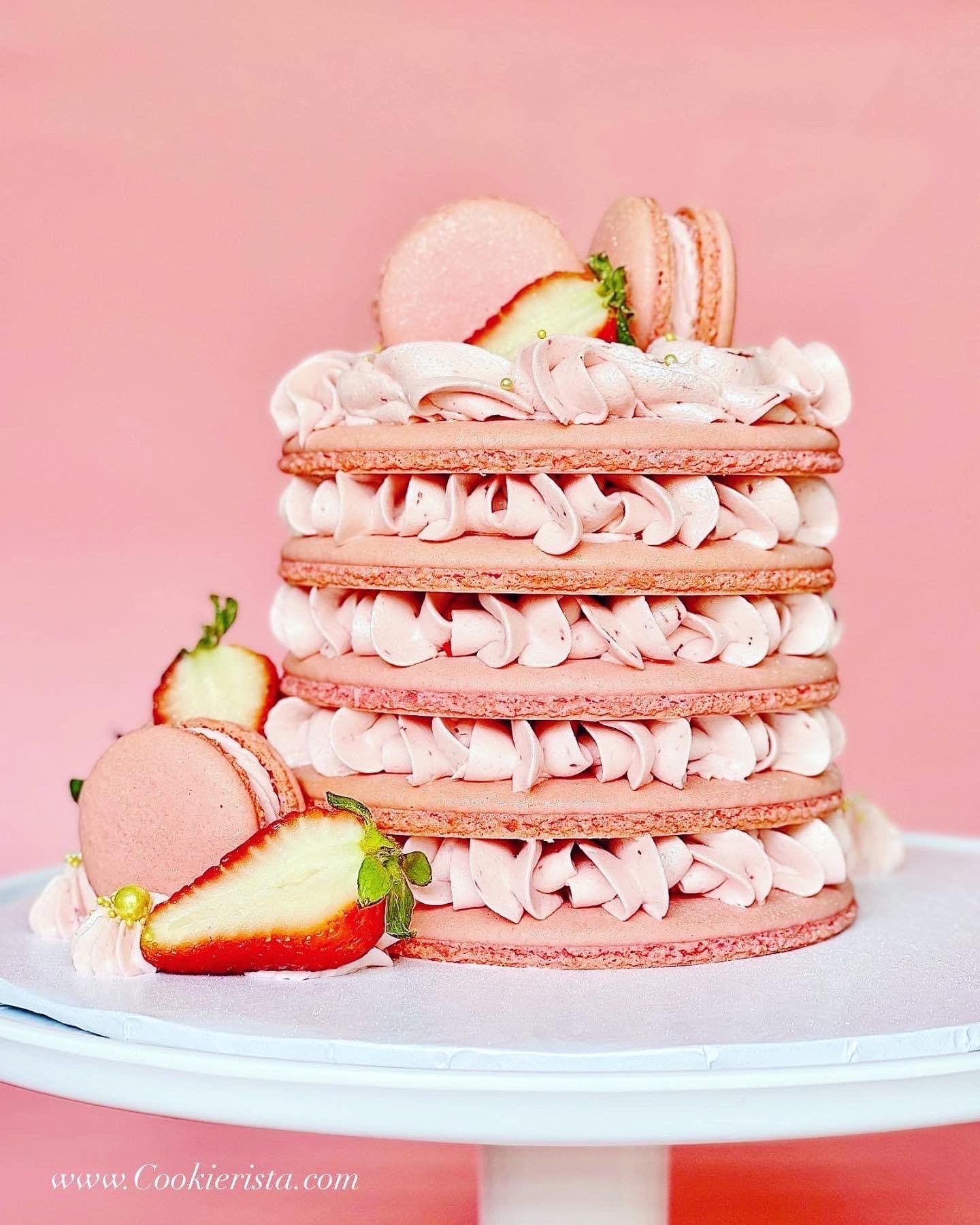 $

100.00 -

$

200.00
/ Sold out
The French Macaron Cake is a specialty treat that is inspired by the classic naked cake styles. Available stacked in several serving sizes and flavors. The perfect way to celebrate any special occasion for any macaron fan.
French macarons are thin, flavorful almond meringue cookies that are available in several serving sizes, stacked with a delicious filling in between each layer and decorated on top to complete the design. The meringues are what make the cookies unique. It has a smooth, crisp shell and a moist, chewy interior.
Important Notice: Please allow at least one-week for custom personalized orders. See the French Macarons menu flavor options for ideas. You can message me via email at Cookierista@gmail.com or directly on my business Facebook page with any Macaron question.
____________________________
SERVINGS:
• Servings vary per size
• Small 4" (5-layers) serves approx. 4-6ppl
• Medium 6" (4-layers) serves approx 6-8ppl
• Large 7" (3-layers) serves approx 8-10ppl
• Extra Large 9" (3-layers) serves approx 10-14ppl
• Packaged in a bakery box
____________________________
INGREDIENTS:
Blanched Superfine Almond Flour (gluten-free), Powdered Sugar, Cornstarch, Egg Whites, Sugar, Cream of Tartar. Fillings may vary.
ALLERGENS:
• Dairy, eggs, soy, wheat, peanuts, tree nuts, almonds
• Made in a kitchen that processes dairy, eggs, soy, peanuts, tree nuts (almond, cashew, coconut, macadamia, pecan, pistachio, walnut), and wheat are present. If you have a severe food allergy, please know that while I do my best to prevent cross-contamination, I cannot guarantee safeguards against it
-------------------------------------------------------------------
PLEASE READ BEFORE BUYING:
-------------------------------------------------------------------
ALL SALES ARE FINAL:
(Terms and Conditions)
Health and safety first. Due to concerns about cross-contamination, I never accept returns of any kind by any customer. This means all sales are final, and no returns will be accepted. All baked goods transactions will get done via the secured website. Paid online orders will be available for pickup by you (the customer) at the address provided below by appointment only on the date and time you provide. Please note for online orders, if you're a no-show to our scheduled pickup appointment, you will not receive a refund, no exceptions. I'm happy to answer any questions or respond to any concerns you may have before making a purchase. Please message me directly via the Cookierista Facebook page or email at cookierista@gmail.com before checking out to be sure what you are buying will work for you! The state of Florida prohibits the resale of any of our baked goods/products. Made in a cottage food operation that is not subject to Florida's food safety regulations.
***Cookierista, LLC is a one-person home bakery business. I bake fresh in small batches and can only offer limited quantities each month. My hours may vary as my family comes first. Thank you kindly for your understanding and continued support of my small business, and shopping local! For up-to-date announcements, please follow my Facebook page Cookierista.
____________________________
CUSTOMER PICKUP FOR ONLINE ORDERS:
Baked goods will be made available to customers for pickup by appointment only.
• Date: Schedule your date and time via email
• Pickup Hours: Tuesday through Friday between 10:00 a.m. to 4:00 p.m., by appointment only
• Location: Avalon Park, Orlando, FL 32828
____________________________
HOURS OF OPERATION:
Please note, I do not respond to social media messages, or emails during closed hours. Time off is for my family time. Otherwise, I will respond on my first availability during my normal business hours listed below. Thank you for your understanding and cooperation.
• Monday: Closed
• Tuesday: 10:00 a.m. to 4:00 p.m.
• Wednesday: 10:00 a.m. to 4:00 p.m.
• Thursday: 10:00 a.m. to 4:00 p.m.
• Friday: 10:00 a.m. to 3:00 p.m.
• Saturday: Closed
• Sunday: Closed
____________________________
CONTACT INFORMATION:
The best way to contact me directly is via email at Cookierista@gmail.com or sending a message through my business Facebook page @Cookierista. Please do not use the contact form on this website, as it's not the most reliable way to reach me. Thank you.
_____________________________
LOCAL DELIVERY:
Currently not available. Customer Front porch pickup only.
______________________________
SHIPPING:
No shipping available.
______________________________
PRICING NOTICE:
Prices are subject to change without notice.
______________________________
HOW TO STORE FRENCH MACARONS:
For best results, our French Macarons should be refrigerated upon arrival and consumed within 5-7 days. Macarons can alternately be frozen in an airtight container for up to 4 weeks. If you will be storing Macarons in a refrigerator, please allow approximately 10 minutes to reach room temperature or 30 minutes if coming from the freezer.
______________________________
SOCIAL MEDIA:
Follow and Like our Facebook Business Page @Cookierista for notifications, future offers, and reviews.
I love seeing your unboxing and happy moments, please tag me using the hashtag #Cookierista and follow our Instagram account @Cookierista