Back to Shop
Deep Dish 9" Round Cookie Cakes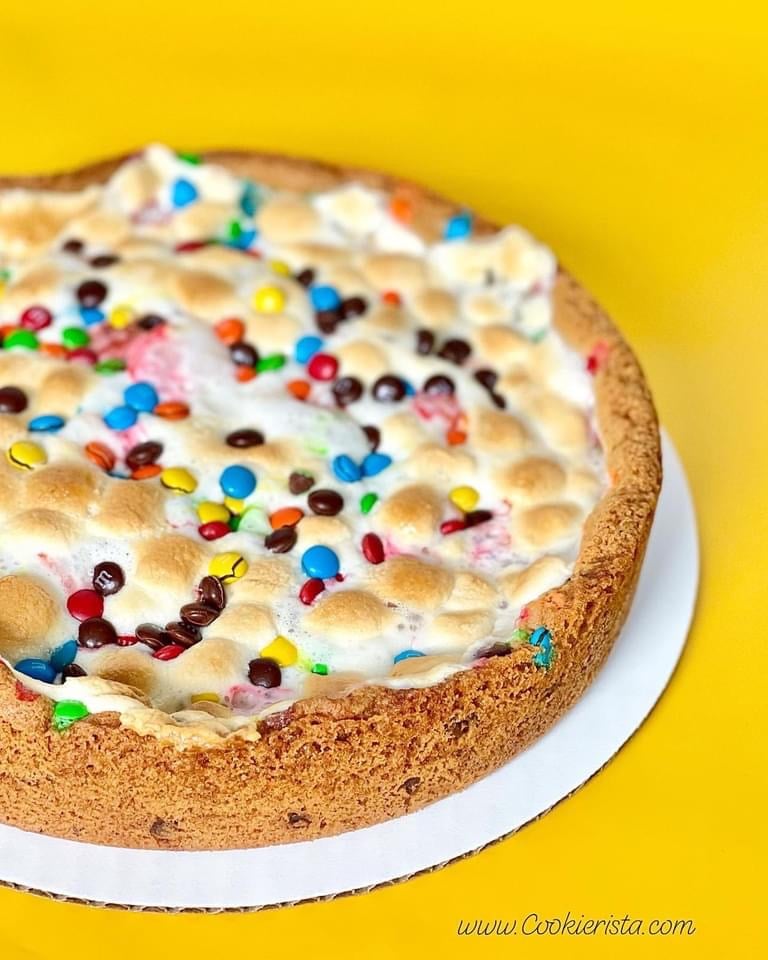 $

7.00 -

$

65.00
/ Sold out
You can have your cookie cake and eat it too! The ideal dessert for anyone who's a fan of crispy on the outside and soft and chewy on the inside cookies—absolutely delicious with every bite! Build your own deep-dish style 9" round cookie cake by choosing your favorite cookie cake flavor. (Choose your flavor at checkou)
PERSONALIZE IT!
(You can also get it personalized with a special written message—say it a cookie cake! Plus, now available extra personalization too! Make it fun, beautiful, festive, or all the above! Choose your options at checkout)
• Thank you
• Congratulations
• Get Well
• Graduation
• Cheer Up
• Thinking of You
• Welcome Home
• I Love You
• Happy Anniversary
• Happy Birthday
• Happy Mother's Day
• Happy Father's Day
• Best Mom Ever
• Best Dad Ever
• Happy Valentine's Day
• Happy Easter
• The Big Game
• You Did It!
Important: I require 48 hrs minimum advance notice.
____________________________
SERVINGS:
• 9" inches in diameter deep dish style cookie cake
• Serves 6-8 people, depending on how narrow or wide you cut the slices
____________________________
INGREDIENTS:
Unbleached flour (Wheat), Brown Sugar (Sugar, Molasses), Butter (Pasteurized Cream), Semisweet Chocolate Chips (Sugar, Chocolate, Cocoa Butter, Soy Lecithin, Vanillin), Eggs, Sugar, Pure Vanilla Extract, Baking Powder, Baking Soda, and Kosher Salt. Chocolate or Vanilla Icing.
ALLERGENS:
• Dairy, eggs, soy, wheat, peanuts, tree nuts
• Made in a kitchen that processes dairy, eggs, soy, peanuts, tree nuts (almond, cashew, coconut, macadamia, pecan, pistachio, walnut), and wheat are present. If you have a severe food allergy, please know that while I do my best to prevent cross-contamination, I cannot guarantee safeguards against it
-------------------------------------------------------------------
PLEASE READ BEFORE BUYING:
-------------------------------------------------------------------
ALL SALES ARE FINAL:
(Terms and Conditions)
Health and safety first. Due to concerns about cross-contamination, I never accept returns of any kind by any customer. This means all sales are final, and no returns will be accepted. All baked goods transactions will get done via the secured website, and cash only for front porch cookie popup events. Paid online orders will be available for pickup by you (the customer) at the address provided below on the date and time you provide. Please note for online orders, if you're a no-show to our scheduled pickup appointment, you will not receive a refund, no exceptions. I'm happy to answer any questions or respond to any concerns you may have before making a purchase. Please message me directly via the Cookierista Facebook page or email at cookierista@gmail.com before checking out to be sure what you are buying will work for you! The state of Florida prohibits the resale of any of our baked goods/products. Made in a cottage food operation that is not subject to Florida's food safety regulations.
***Cookierista, LLC is a one-person home bakery business. I bake fresh in small batches and can only offer limited quantities each month. My hours may vary as my family comes first. Thank you kindly for your understanding and continued support of my small business, and shopping local! For up-to-date announcements, please follow my Facebook page Cookierista.
____________________________
CUSTOMER PICKUP FOR ONLINE ORDERS:
Baked goods will be made available to customers for pickup by appointment only.
• Date: Schedule your date and time via email
• Pickup Hours: Tuesday through Saturday between 10:00 a.m. to 4:00 p.m., by appointment only
• Location: Avalon Park, Orlando, FL 32828
____________________________
HOURS OF OPERATION:
Please note, I do not respond to social media messages, or emails during closed hours. Time off is for my family time. Otherwise, I will respond on my first availability during my normal business hours listed below. Thank you for your understanding and cooperation.
• Monday: Closed
• Tuesday: 10:00 a.m. to 4:00 p.m.
• Wednesday: 10:00 a.m. to 4:00 p.m.
• Thursday: 10:00 a.m. to 4:00 p.m.
• Friday: 10:00 a.m. to 4:00 p.m.
• Saturday: 10:00 a.m. to 2:00 p.m.
• Sunday: Closed
_____________________________
LOCAL DELIVERY:
Currently not available. Customer Front porch pickup only.
______________________________
SHIPPING:
No shipping available.
______________________________
PRICING NOTICE:
Prices are subject to change without notice.
______________________________
HOW TO STORE COOKIE CAKES:
Our Cookie cakes can be stored in an airtight container at room temperature up to 1-3 days, an exception is cookie cakes decorated with cream cheese. Cream cheese decorated cookie cakes must be refrigerated in an airtight container for up to 1-2 days maximum. When you're ready to eat bring to room temperature for up to 2 hours.
______________________________
SOCIAL MEDIA:
Follow and Like our Facebook Business Page @Cookierista for notifications, future offers, and reviews.
I love seeing your unboxing and happy moments, please tag me using the hashtag #Cookierista and follow our Instagram account @Cookierista